Shirdi to Shani shingnapur shared taxi fare
When it comes to travelling from Shirdi to Shani Shingnapur, a divine place of shani dev situated at 75 Kms away from shirdi. However, there are no direct buses, trains, or flights to cover Shirdi to shani shingnapur distance. People often face difficulties while cutting down this 75km of distance from Shirdi to shani shingnapur because it's quite difficult to drive off this distance. Moreover, if you're commuting along with your family, it's imperative that you choose a convenient and comfortable way of travelling.. A good travelling experience can be achieved only when we have the convenience & comfort that we need.
Shani Shingnapur in Ahmednagar District is without problems reachable by way of the road. It is situated 6 km far from Godhegaon on the Aurangabad – Ahmednagar Rd. A tar motorable street from this place leads immediately to Shri Shanaiswar Temple. This road stays open everywhere in the year. Most folks who come to Shani Shingnapur make the point to visit the famous Sai Baba Temple at Shirdi 70 km from this area.
The idol of Lord Shanidev is positioned inside the Shani Shingnapur Temple and is made up of large black stone. Devotees are allowed to enter the temple premises after taking a tub. Only adult males are accepted in the temple. Prayers are provided via the devotees in traditional dhotis on the Shani Shingnapur Temple.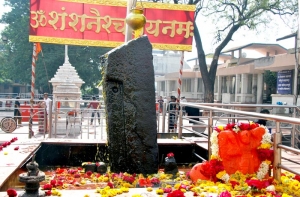 Shirdi to Shani Shingnapur by Road: To travel Shani Shingnapur from Shirdi head towards Sakori > Rahata > Kolhar BK > Rahuri. From Rahuri take a left turn to reach Shani Shingnapur from Sonai.
We've come up with an excellent travel solution – fastest, cheapest, and most convenient – Shirdi to Shani Shingnapur Taxi Services. Hire a taxi from Shirdi to shani shingnapur and reach your destination within an hour. Travelling without any direct bus or train has never been easy. Car rental is the best way to plan a tour to Shani shingnapur from Shirdi with affordable shirdi to shani shingnapur taxi fare. We provide roundtrip tour by Shirdi to shani shingnapur cab rental services.
for more details , visit – Shirdi Sai Yatra Cabs
Call us at – 9545031555
Email your enquiry – info@shirdisaiyatra.com
For more details for the route – Shirdi to Shani shingnapur cab booking